The ultimate accessory for Xbox 360® racing games - Power Racer 270 Wireless Racing wheel delivers driving realism.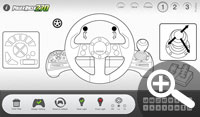 This fully wireless wheel syncs directly with your Xbox 360® console to deliver ultimate control of your racing games. And with the included accelerator and pedal set the driving experience reaches another level!
Add to this Power Racer 270's unique customizer feature which lets YOU create your own custom settings for individual racing games
Features
Fully wireless wheel – syncs directly with your Xbox 360 console
270degree lock to lock control
Includes lap-mount and table-mount with quick release
Self centring wheel for enhanced straight line performance
Dual vibration
Wheel mounted Twin Paddle Shifts
Accelerator and brake pedal set
Sequential type gear shift
Programmable Function Buttons
Rechargeable Lithium-ion Polymer Battery
Fully rubberized wheel grip for extra comfort
Plus - Unique Customizer feature – Connect Power Racer 270 to any online enabled PC to access Power Racers built in Customizer profile where you can custom create driving settings for your racing games. Set dead-zone control to increase or decrease the parameters of your vehicles racing lines. Apply sensitivity boost to increase the sensitivity of the wheel – Use button mapping to custom set your preferred button configuration. Once you've selected your custom configuration, settings will be stored on the Power Racer 270, ready to use in game.