The best selling third party controller has evolved! Delivering ultimate control for your Xbox® 360™ games!
Now with Combat Command Weapons Selector Interface
EVO's unique built in Combat Command LCD Display, gives you the power to enable powerful custom settings - all clearly displayed on EVO's™ 1.7" LCD display. Advanced features such as; Multimode Turbo Fire, Sniper Mode, Low Recoil, Mission Specific Button Remapping, Combo Sequences and much more, all selectable directly through the built-in Combat Command LCD interface.
Fine-tune settings at any time during gameplay to ensure maximum effect!
Outgun your opponents by speeding up or, slowing down the controllers own Turbo Rapid Fire feature

Use Combat Command to adjust sensitivity on the analog sticks and trigger buttons in game. Add effects such as slowing down or speeding up the camera pan, even swap analog sticks around if you're a left handed gamer. Select your preferred gaming button map, giving you greater control of the game. For example you may wish to use the Call of Duty configuration on Halo Reach. Or, if you prefer choose to aim and shoot from the same button, giving you a more rapid response. The options are endless and you simply use EVO's™ underside fingertip function buttons to flip between custom profiles giving you loads of combinations of moves and settings. Giving you ultimate control of the game!
Watch it in Action
Active Function Buttons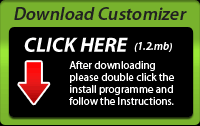 Want even more customization? - Connect to the USB port of any online-enabled PC to update and add to EVO's™ built-in custom profiles. Download a whole host of custom created controller moves and enhancements to further customize your controller like never before.
In addition to its unique programmability, WildFire EVO™ features an integrated headset port for Xbox® Live™ play. A precision engineered design means it's built to withstand aggressive fast-paced gameplay!
Features
Fully Wireless compatible with Xbox® 360™ - Direct Sync - No cord or dongles required
Unique built in 1.7" TFT COMBAT COMMAND LCD display lets you select from a huge range of features directly on the controller!
Customizer feature - enabling users to further customize controller settings for specific games
20ft wireless range
Seamless control and accuracy
Programmable vibration feedback
Full analogue input
Integrated headset port for Xbox® Live™ play
Dual rumble motors
Truly ergonomic shape fits perfectly in your hands
Blue glowing grips showing when Turbo Rapid Fire is enabled
Requires 2 x AA batteries (not included)
Accepts Standard Rechargeable battery packs
Built to withstand aggressive fast paced game play!